Thu, Mar 26, 2015 2:00 PM – 3:00 PM EDT
---
Today's New Business Disruptor:
3D Scales Up to Improve Quality and Bring Costs Down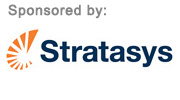 3D printing has crossed the tipping point, and is now being used for full manufacturing runs
Imagine being able to manufacture parts in-house that you would normally outsource, for a substantially reduced cost. With 3D, or additive printing, you can. And it's no longer just for prototypes. A significant and fast-rising share (34.7%) of the global market for additive printing is now devoted to the manufacture of critical parts for final products in industries ranging from aerospace to medical devices and more.
Reduce down-time on the shop floor, waiting for deliveries, expensive shipping costs, wasted warehousing space, capital tied up in inventory, even damaged or stolen goods: 3D printing is a completely disruptive technology.
CEOs who take advantage of 3D can transform their businesses or create entirely new ones.
Find out more in this free 60 minute webinar.
Featured presenter: Rick Smith, founder and executive director of the Global Coalition on Additive Manufacturing (GCAM) and co-founder of industrial 3D printing company CloudDDM.
Webinar attendees will receive a complimentary whitepaper, Revolutionizing Manufacturing with 3D Printing: An Introduction.